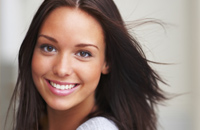 Welcome
At St. Robert Family Dental Center, we provide gentle dental care from caring, compassionate dentists. Our state-of-the-art practice uses only the finest and most effective treatment methods available. Drs. Jeremy C. Kiersz, Dr. Bryce Brown and Dr. Najwa Varney, along with our friendly team, treat each patient with the compassion and empathy we would expect for our own families. We believe everyone deserves a happy, healthy smile.
Our patients can count on receiving affordable, personalized care in a professional environment. Our comprehensive general dental treatments include preventative care, fillings, crowns, dentures, partials,cosmetic solutions and teeth whitening. Each treatment plan is customized to meet each patient's unique goals and needs, ensuring beautiful results.
We work hard to make your trip to the dentist as relaxing, comfortable, and stress-free as possible. We have a happy, fun environment with lots of laughter, and have built a reputation for delivering stunning results.
When you're ready to take the next step toward a lifetime of healthy, bright smiles, please feel free to contact our office to schedule your appointment.
Providing quality dental care to St. Robert, Fort Leonard Wood, Waynesville and all surrounding areas.